Service:
1. Based on the specific workplaces of users, we can design and manufacture tower cranes with different radiuses and lifting weights.
2. According to requirements of customers' contracts, we can provide installation services for clients.
3. According to customers' needs, we can also train operators of tower cranes and construction hoists for you.
Warranty Period:
1. Tower Crane:
Different components of tower crane have different warranty periods. The major structure, high-strength bolts and slewing bearing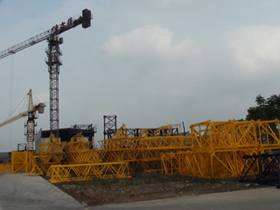 have the warranty period of 12 months. 6 months of warranty period are for components: main motor and speed reducer of the slewing mechanism; main motor, speed reducer and transmission parts of the derricking mechanism; main motor, transmission components, hydraulic pushrod brake and coupler of the lifting mechanism; pump station and oil cylinder of the hydraulic jacking mechanism; PLC (programmable logic controller), contactor, relay and frequency changer of the electrical system. And 3 months of warranty period are provided for height limiter, slewing limiter, radius limiter, lifting weight limitator, force moment limiter, linkage control console, braking systems, and cable.
If users operate our products according to the conditions and requirements in the product instructions and some quality problems happen in components that are not wearing parts, we will repair or replace these components for you. Besides, these components can also be replaced after you finish your project if they do not affect your use. But if the quality problems are caused by customers themselves or by overloading, we will not take responsibilities.
2. Construction Hoist:
Generally speaking, the warranty period of our construction hoist is 6 months if users operate it according to the relevant standards.
When operated according to the conditions and requirements of the product instructions, some components, not the wearing parts, have quality problems, and we will repair or replace them for users. However, if these quality problems are caused by users themselves, we will not undertake responsibilities.
Related products