ZZ Industrial (shanghai) Co.,Ltd is an enterprise specializing in the manufacture of various construction equipment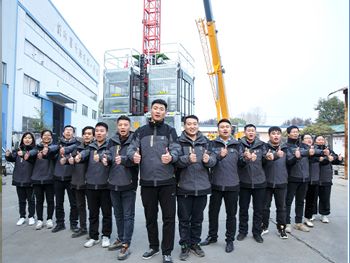 , and our main products are construction crane and building hoist. Established in 2002 and with a registered capital of RMB 15,18million, we now have 80 sets of superior and advanced production facilities and cover an area of 35,000m2. Our professional R&D team has more than 20 professional engineering technicians, and it has developed a series of construction cranes and building hoists like model QTZ50, QTZ63 (QTZ80), QTZ100, QTZ140, and SC200/200. Every year we manufacture as many as 150 sets of construction cranes and 100 sets of building hoists for our clients around the world. And our products have been exported to South America, Eastern Europe, Southeast Asia, the Southeast Asia, and Africa, including countries of Cambodia, Yemen, South Africa, Brazil, Afghanistan, Iran, etc. Meanwhile, in order to better serve customers, we have been committed to innovative technology, advanced production facilities, perfect test methods and excellent after-sales services.
We have manufacturing licenses of construction crane and building hoist, qualification certificates of lifting equipment assembly and dismantlement, safety production permit, and ISO9001-2000 certificate. And we can provide clients with one-stop service including assembly, dismantlement, repair and maintenance. Our products, like QTZ400, QTZ315, QTZ250, QTZ140, QTZ125, QTZ100, QTZ80 (QTZP80), QTZ63, QTZ50, and SC200/200, are developed and improved based on production experience of similar products. As a result, we As a result of that, our construction cranes and building hoists have the features of no-failure operation process, longer maintenance intervals, high cost performance, and stronger market competitive power.
Quality Control:
1. Quality policy and objectives: first, finished products have to meet the first test pass rate of more than 98%. Second, products manufactured pass rate of 100%. Finally, the customer satisfaction rate is more than 95%.
2. According to the standards of process drawing and relevant quality standards, our quality control department will examine products strictly, and production personnel undertake manufacturing strictly in accordance with the drawing process. During the examination process, unqualified products will not be allowed to go into the next procedure, and qualified ones will be marked before entering the next process. Meanwhile, workers will keep all the examination and tests of qualified products.
3. Raw material control: First, our purchase department will review the raw materials carefully on the basis of technology requirements. Then our quality control department will examine and test raw materials and components to ensure the high quality of our products.
Cost Control:
1. All of our equipment and dies have been assessed in their costs and quality, and our user department will maintain these equipment and dies regularly. Meanwhile, they keep records of the maintenance.
2. According to technology requirements of products, our purchase department will review the suppliers in their supply capacity, quality assurance capacity, product quality and price, contract fulfillment rate, service quality, and more. And their location is also a factor to be considered.
Products:
1. Our construction crane is a type of machine that can be used both to lift and lower materials and to move them horizontally and vertically, and it is commonly employed in the construction industry for material transport and construction equipment assembly. Our construction crane mainly includes two types: standard tower crane and topless tower crane.
2. Our SC building hoist, also called construction elevator, is a kind of elevator driven by gear-and-rack transmission. And it is widely used for material and personnel transport in a wide range of construction fields, such as industries, civil building construction, bridge construction, downhole operation, large chimneystack construction, and the like. When used as elevator, it can be employed in warehouses, high towers, and many other places.
It features stable performance, secure and reliable operation, easy dismantlement, and good adaptability, and it can greatly reduce the labor intensity of workers.
Technical Advantages:
Construction Crane:
1. Compared with similar products, our construction crane features a long loading jib, longer working radius, high loading torque, rational structure, internationally advanced performance, etc.
2. Long loading jib is hung at the rigid duplex pull rods, and the jib is characterized by good rigidness, small cross section, low wind resistance, beautiful appearance, etc.
3. Advanced linkage control console is employed to manipulate the whole construction crane, which realizes easy operation and convenient maintenance.
Building Hoist
1. Combination design is employed to make it suitable for different construction needs. And our SC200/200 can be used in various construction sites.
2. Its transmission system is driven by motor and speed reducer. The motor is equipped with direct current electromagnetic brake, and the speed reducer features small volume, high efficiency, high loading capacity, and long service lifespan that is about 4 to 5 times of that of a common one.
3. The quincunx elastical shaft coupling is designed between the motor and speed reducer in order to decrease the braking impacts.
4. Double speed motor can be used for its transmission mechanism to reduce the impacts caused by start or braking, which will in turn guarantee the stability of this building hoist and the comfortability of passengers.
Service:
1. Based on the specific workplaces of users, we can design and manufacture construction cranes with different radiuses and lifting weights.
2. According to requirements of customers' contracts, we can provide installation services for clients.
3. According to customers' needs, we can also train operators of construction cranes and building hoists for you.
Warranty Period:
1. Construction Crane:
Different components of construction crane have different warranty periods. The major structure, high-strength bolts and slewing bearing have the warranty period of 12 months. 6 months of warranty period are for components: main motor and speed reducer of the slewing mechanism; main motor, speed reducer and transmission parts of the derricking mechanism; main motor, transmission components, hydraulic pushrod brake and coupler of the lifting mechanism; pump station and oil cylinder of the hydraulic jacking mechanism; PLC (programmable logic controller), contactor, relay and frequency changer of the electrical system. And 3 months of warranty period are provided for height limiter, slewing limiter, radius limiter, lifting weight limitator, force moment limiter, linkage control console, braking systems, and cable.
If users operate our products according to the conditions and requirements in the product instructions and some quality problems happen in components that are not wearing parts, we will repair or replace these components for you. Besides, these components can also be replaced after you finish your project if they do not affect your use. But if the quality problems are caused by customers themselves or by overloading, we will not take responsibilities.
2. Building Hoist:
Generally speaking, the warranty period of our building hoist is 6 months if users operate it according to the relevant standards.
When operated according to the conditions and requirements of the product instructions, some components, not the wearing parts, have quality problems, and we will repair or replace them for users. However, if these quality problems are caused by users themselves, we will not undertake responsibilities.
Related products